See our newest Newsletter on Line!
Right Here!

Saturday, February 28, 2004
TEXANA LIVING HISTORY PRESENTS

"TEXAS HISTORY ALIVE" This is an excellent opportunity to learn all about Texas History within a Historic park location. An 1840's campsite will be featured where costumed volunteers will be demonstrating/teaching crafts & skills. Meet historical figures like William Barrett Travis, Susanna Dickerson and Sam Houston. Learn all about Texas Independence Day as well as state historic events and have plenty of fun in the process. Click here for more details!


QUILT UPDATE

This quilt certainly has a mind of its own. Barb and I have made decisions then changed our mind at least 3 times now. However, I think we are going down the last alley on the quilt. The center was completed once, but needed to be taken apart and put back together. I'm still working on that. Barb is appliquéing the TEXAS on the next big border, which is now a beige color but NOT the beige with red print that we started with. The next step on this border will be to draw on the quilt design and distribute to 4 people to work on. LaJuanna has completed the outside border. So, when we get the other border quilted, I will put the whole thing together. We sold over $70 in tickets at Archeology Fair! Barb has tickets for everyone. Just let her know how many you would like to sell.
We are also looking for other events/locations to sell raffle tickets. If you know of an event that would allow us to show the quilt and sell tickets pleas let us know. We really need to sell as many as possible.

Last year's Quilt winner!
Ms Angie Tolentino was the lucky winner of our Quilt Raffle.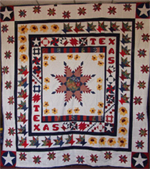 Click Here to see a larger view of last years quilt!

Let Us Introduce Ourselves 

Texana Living History Association, a non-profit organization, provides a unique blend of entertainment, education, history and performing arts by portraying legendary Texans.

After in-depth research of the character, surrounding events, and clothing of that time period, the volunteer tells their character's story in the first person. As they unveil the hidden truths of Texas history and the personalities who shaped it, you will laugh, cry, ponder.., even clear up a fact or two.

The performance format can vary from casual "meets and greets", through individual monologues, to formal staged productions. Audiences include fourth grade through adults.

Texana's credits include public and private schools, Scouts, numerous historical organizations, cultural festivals, corporate dinners, debutante receptions, fund raisers, parties, teacher workshops, etc.

All donations are deductible to the fullest extent allowed by law.  


We would like to invite you to browse our website for more detailed information on the programs and volunteer opportunities that are available.



Thank you Barbara Welch for all the wonderful pictures!!
We appreciate your contributions!